Space room designs are never be old because it has many variations of designs.
The science, nature, and also planets are not a boring theme and object especially for the kids.
Using the space theme for their room will be the best idea.
It will give an interesting look and it can also inspire them about the solar system, astronaut, and also the planets.
---
Space Themed Bedroom
---
Here are some space theme designs that you can use for your kids' room.
1. Lively Space Theme
Make your kids' room more live by having some ornaments like small round planets, mural, painting, and also space lamp.
2. Blue Space Theme
Mixing all blue color for the space theme bedroom will be really great.
You can use the same pattern for the blanket, lamp, and curtain.
Giving more space atmosphere by having a big mural and also space painting.
3. Fun Space Theme
To design your kids' room, you can be as creative as you want.
Like this design, you can paint the wall with glowing black and put some space pop ups like the astronauts, planets, and rockets.
This is the best way to have a fun space theme bedroom.
4. Grey Space Theme
If your kids don't like the bright color, you can try to use this grey color as the space design theme.
The combination of grey and a bit light blue color will create such a unique space theme design.
You can add some properties like small rocket, space lamp, and also space blanket.
5. Bright Space Theme
You can create a bright space theme since this design is for your kids.
It is supposed to be cheerful and bright by using the colorful paint.
6. Bold Space Theme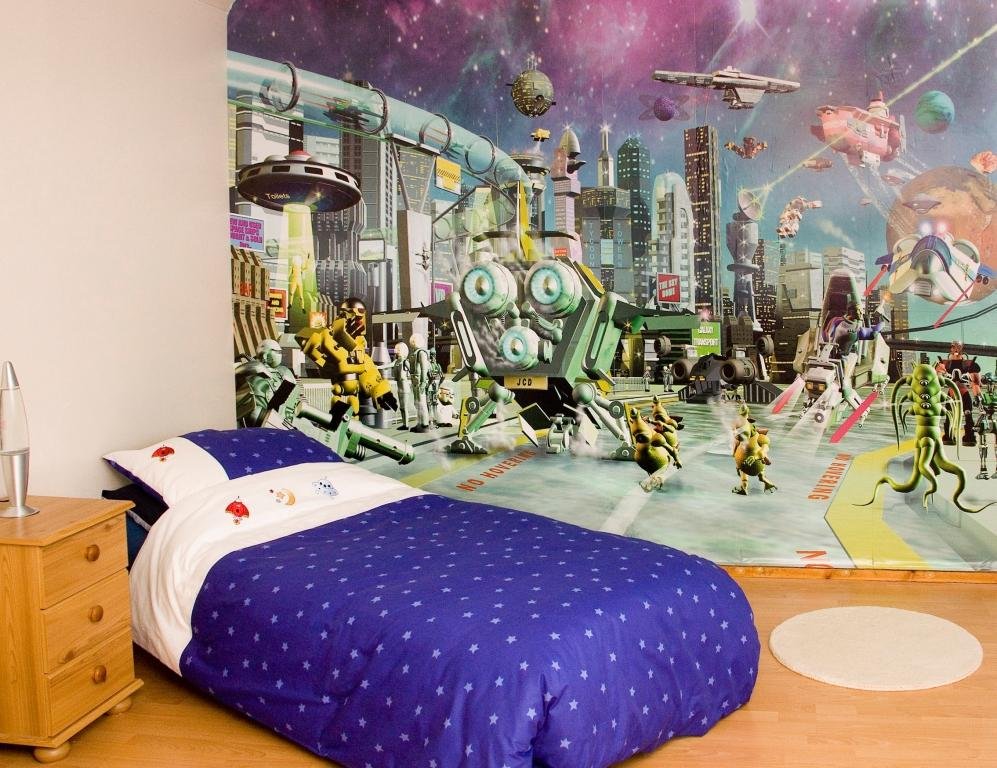 If you want to go bold for your kids' room, you can use a full mural for the wall.
With space theme design, the mural can be fully drawn with the alien, the city space, and also the rocket.
Place the bed in diagonal way to give space for the wall.
7. Beautiful Sky Space Theme
To add a space atmosphere in your room, you can use the space sky as the ceiling for your bedroom's kid.
Using the blue color, it will create such beautiful sky inside the room.
Mix and match with the blue space blanket, bed cover, and wallpaper.
8. Cool Space Theme
This space theme room is super cool.
Even though it just uses the small bed and shelves, it has a complete scenery of space world.
This folded bed is also adding a modern look for this room.
Some mural astronauts will also be a great decoration.
9. Modern Space Theme
This design can be both bold and cool space theme design.
You can make it more modern by using the plain color of bed.
It gives more luxurious look for the room.
Black outer space will be really great for boy's room.
10. Perky Space Theme
This perky room will be really great for the kids around 5 and 6.
The bright color used for the room will make it more fun and enjoyable.