Porch railing can be a good idea because it gives a safe place for kids to not going out from home.
This is also a good idea to maintain and keep the save from your neighbors' pet from getting inside.
Not only as the guidance, but railing porch will also beautify your home.
---
Porch Railing Ideas
---
Here are some porch railing ideas to make your home more eye catching.
1. Chippendale Railing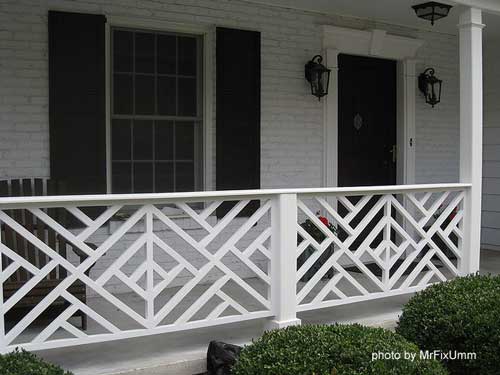 The Chippendale railing is the most common and simple railing.
This railing is designed in X shape as the main shape.
Then it will have such a small line inside all way long the big X pattern.
You can use this design for the horizontal railing.
2. Rustic Railing
Rustic design is very hype today.
For a railing, this rustic style will give a bit informal style.
You can use a series of wood and cut it in a raw look.
You can line them in one row to perform a horizontal railing.
Don't forget to make the surface in well cutting so it can stand perfectly.
3. Craftsman Railing
The craftsman railing is really great for you who love tidiness.
This railing is using the slim-cutting wooden arranged vertically.
It can also be arranged with horizontal line to give different pattern.
The wood should be cut symmetrically so it will give a tidy look for the railing.
4. Sawn Baluster Railing
This is one of the gorgeous designs for an old railing like the traditional wooden house.
This design is so attractive by arranging the wood in vertical series.
But, the shape will be depended on your will.
The repeated shape of panel will really make this railing beautiful.
5. Sunburst – Fan Railing
The sunburst or fan railing is the old yet stunning railing design.
This railing is created from the straight lines in series with different size.
It has one spot as the center point.
That's why this railing is called as fan because it has a half round shape like a fan.
6. Wrought Iron Railing
The most common railing is this wrought iron.
This iron railing is really suitable for the modern and minimalist house.
It is also known as the professional design because some buildings also use this railing style.
This gives a classy look rather than the other design.
7. Glass Railing
Having glass railing will make your house transparent.
You can also use wood or stainless material as the base.
This glass railing is usually used for the second floor in home.
8. Turned Baluster Railing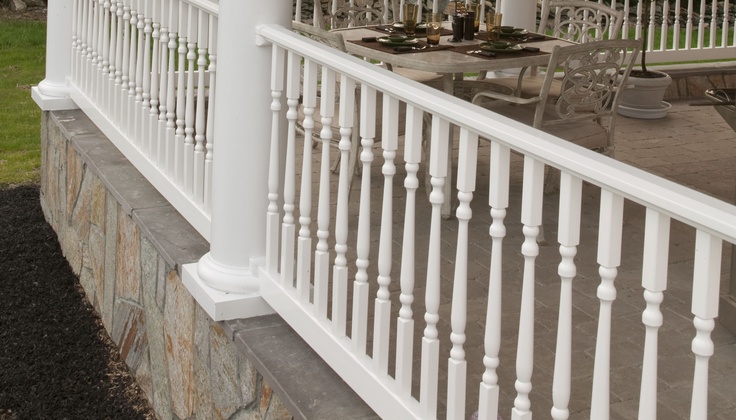 The turned baluster will be similar with the sawn baluster but this one has a more classic and traditional appearance.
Usually, this railing comes in the cylindrical and curves series.
This design is really elegant and it is suitable for a big house.
It makes the house look formal and also attractive.
9. Cable Railing
As the names, this railing is designed from the series of cable.
It also uses the iron as its base and the cable will be arranged horizontally.
It looks simple yet eye catching.
10. Rope Railing
The rope railing can make a really nautical appearance that will beautify your home.
This rope railing is usually used for the inside railing.
---
Gallery of Porch Railing Ideas
---
---
Keyword: Porch Railing Ideas