Do you need a planner that you can look up to every single time?
Well, you can make your own adorable planner as well without have to pay an expensive one! Just simply use the cork board and you can make a really cute wall planner or decoration.
There are so many styles that you can look up to, especially on this page as well.
---
Cork Board Ideas
---
To know more the adorable ideas for your cork board, take a look at this list down below.
1. The Pin for Cork Board
The first thing that you need to know of the actual hanger for the paper on the cork board is this wooden pin.
This wooden pin for the paper like this is actually pretty easy to find in the store, however, to make them attach to the cork board may need a little help from the nail like this.
Attach 2 nails on the outside of the wooden pin!
2. Cork Board Frame
If you like to have a frame for your cork board to get an organized place, well this idea is for you.
You can get any photo frames that you like then place the cork board inside of the frame like this.
3. Paint Your Coark Board
Plain cork board may be boring sometimes and it is not cute at all, right?
You can decorate the background by painting it like this!
4. Another Idea to Paint Your Cork Board
If you do not have any idea what should you paint to decorate the cork board, you can try taping the cork board to make it geometric shapes like this.
5. Cork Board Kate Spade Theme
If you love chic style combine to modern black and white, you can also decorate your cork board with kate spade theme like this! It looks chic and adorable.
6. Monthly Planner Cork Board
Instead of having a note that you should open up every time you need to, you can turn the cork board into a monthly planner like this.
This idea is really good as a reminder for you in the office.
7. Conversation Cork Board Shape
Yup the rectangle shape can look so boring sometimes also you may not need that much of space just for your memo reminder.
You can try to shape it like conversation shape like this that attaches to the desk wall!
8. Travel Planner Map Cork Board
Do you love travelling? If it's a yes, you may need this map world of cork board. You can start your next trip by placing the pin like this!
9. Paper Boards on Cork Board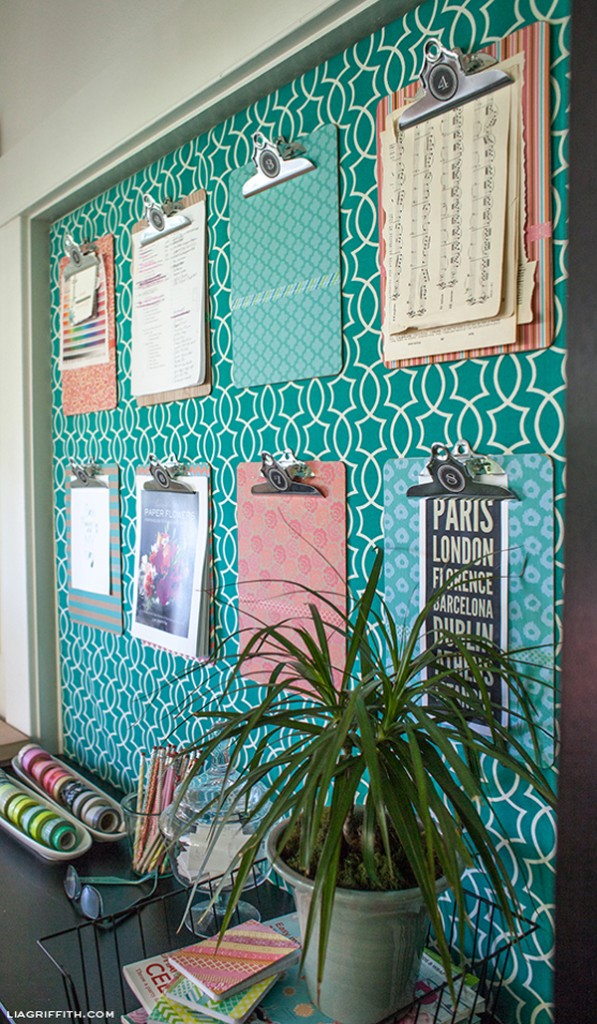 Instead of making it as a mini board, it also works as the hanger for the paper boards to decorate your house like this!
10. Announcement Board
If you have a club or office, you can make this announcement board for your members with the cork board. Place it where everyone can see them every day!
11. Shabby Chic Cork Board
Do you love shabby chic? If you do, you can also decorate your cork board with the shabby chic fabric and attach the fabric on the corkboard then place it inside the frame like this!
It turns out really cute as decoration on your wall as well.
12. DIY Wall Decoration from Cork Board
Corkboard does not always have to be a place to remind yourself. You can also make it as the material of decoration for your wall like this by attaching your favourite fabric and use the ribbon to style them.
You do not have to sew the ribbon, instead, you can use the nail to attach it, like this.
13. Cork Board Reminder
If you need a place to hang your keys so you do not have to find it crazily. You can make this really cute woodcut with hooks along with the cork board on top as your reminder before you go or it also works for your family member to put the note on it!
14. Cork Board Message with Basket
If you are the person who gets so many envelopes, you may need this cork board with the basket to put your important envelope.
The cork board works really well as the photo display like this. You can actually recycle your mirror frame to make it looks like this!
15. Weekly Organizer Cork Board
Instead of changing the board every single month with the monthly planner, choose the DIY cork board for your weekly organizer like this.
They are really simple and helps you to organize your plans in a week.
16. Triangle Cork Board for Wall Decoration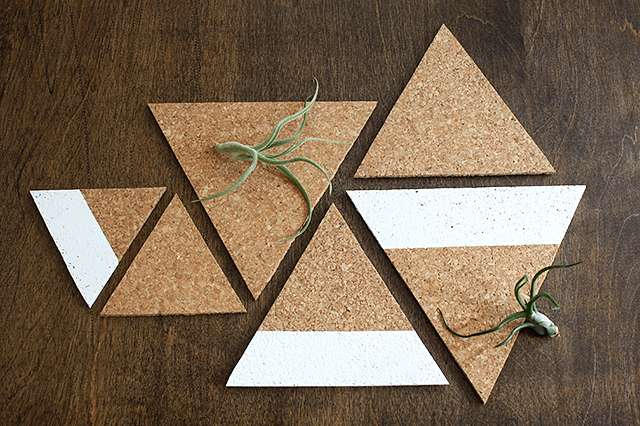 Corkboard can also work as your wall decoration like this contemporary wall decoration with the triangle shapes.
Instead of buying the new decoration, why not make it by yourself right?
You can just paint the triangle like this to have really awesome results.
17. Hexagon Shape Cork Board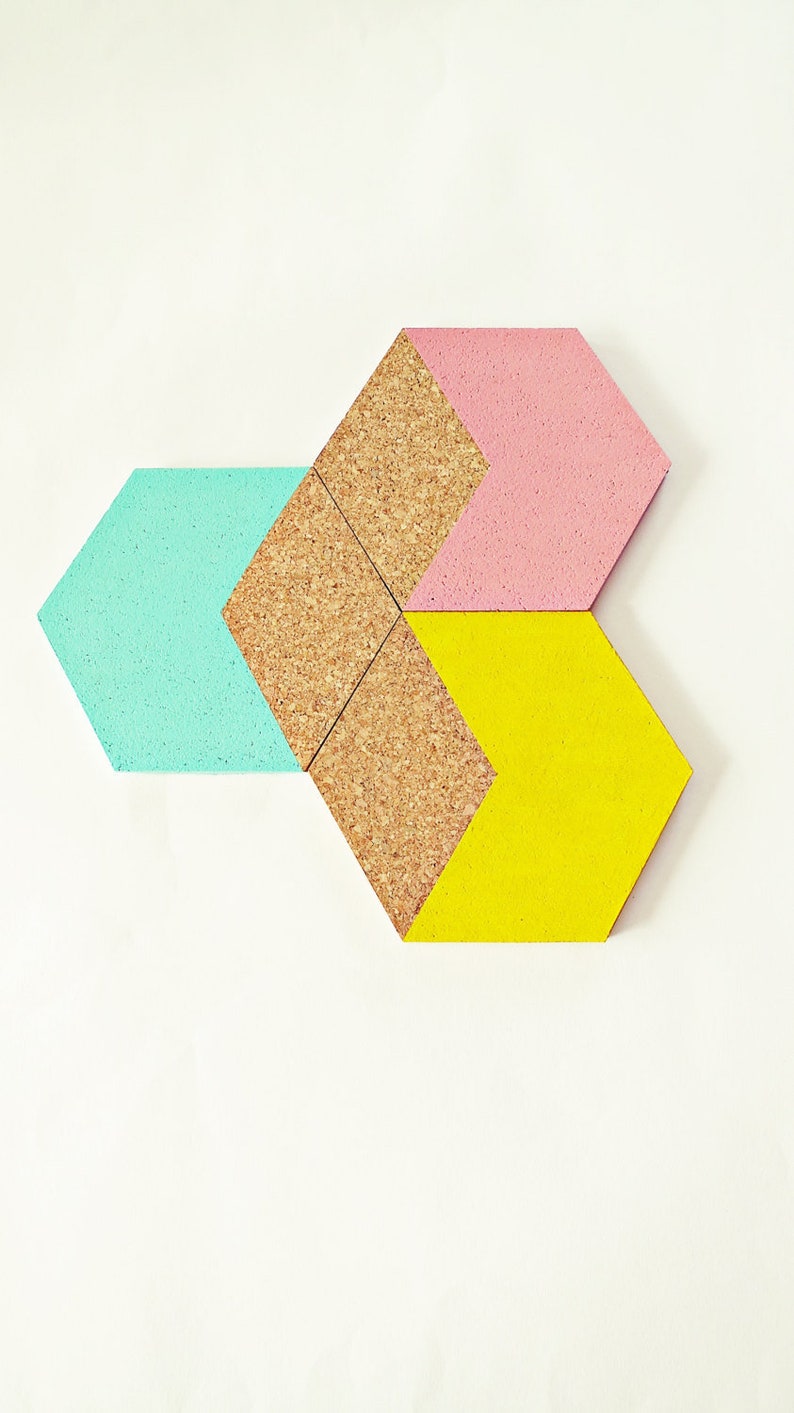 Another shape ideas for your wall decoration! You can make the hexagon shape with cork board like this and place them together like this.
Also, paint them to make it looks like the eye-catching against your white walls.
18. Creative Shape Cork Board
The really unique shape of cork board like this turns out really adorable! Instead of shaping the cork board with boring shape, you can make it like this.
It's just awesome to have a really cute reminder on your room.
19. Modern Cork Board for Memo in The Office
You can never have enough board to decorate your house right? You can just be crazy with it like this!
It looks really contemporary and pretty, you can start to have 4 cork boards to make them looks adorable like this.
Use tapes to have perfect lines and paint them white!
20. Ombre Cork Board
A simple paint of cork board is also working! Make 4 pinks of dark to light like this to have an ombre style.
Keyword: Cork Board Ideas